About ALC Brahmans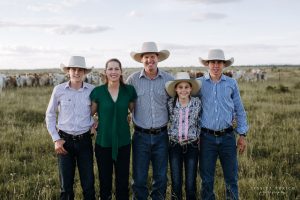 ALC Brahmans commenced in 2011 with Alf and Louise Collins in partnership with Alf's mother Wendy Collins at "Gundaroo", Nebo Queensland under the company name of Collins Cattle Co.  Alf and Louise's children Heath, Tom and Ellie play an integral part in the day-to-day operations and property improvements.
The stud herd is run on "Gundaroo Station" near Nebo, Central Queensland.  Herd bulls are produced off "Tondara Station" near Collinsville in North Queensland.  Collins Cattle Co also runs a commercial operation at "Brides Creek" near Blackall, Western Queensland.
The ALC herd was selected out of the family partnership herd "CBV" which Alf worked in conjunction with his parents for 13 years, and then with his wife Louise, took over as General Manager from 2000 to 2011.  The focus during this time and into the future is breeding adapted, extremely fertile, low cost of production cattle with impeccable temperament to supply genetics that make a difference to profit margins for commercial cattle producers globally.  In total, there has been over 60 years of selection of these traits beginning with Alf's Grandfather Jarvis Collins.  ALC has an ongoing involvement in research and analysis every year co-operating with researchers and clients.
The ALC herd has never been treated for worms or ticks (unless clearing to tick free area's).  Our cattle have often been exposed to poor nutrition and never have any ALC cattle been grain fed.  All sale bulls are presented off-grass at rising two years of age in working condition.  Bulls sold annually at the on property "Gundaroo" Nebo Bull Sale are Semen and Morphology Tested, Sire Verified, Horn Poll tested, WA eligible and performance recorded.  Sale Catalogue includes 4 generations of fertility data and Group Breedplan EBV's.  These Sale Bulls typically average for the Brahmans Breed, in the top 5% for Jap Ox and Live Ex $ Index's and top 10% for Scrotal Size and Days To Calving EBV's.
At ALC, we have no tolerance for cattle that do not earn every year.  Through our management system, any non-earning cattle are converted into dollars, no exceptions made.  The genetic trends reflect this approach at ALC.  Reproduction, survivability, quiet temperament, well-muscled cattle that are efficient at grazing is what best describes the ALC herd.  ALC cattle are tropically adapted and produce beef at a low cost per kilogram.
Our mating's commence in the dry season on October 1 (60 days for 2 year old heifers and 90 days for yearling heifers and cows). This is to identify the most efficient adapted females, by their ability to conceive whilst lactating, in very dry grazing and to hold that pregnancy, calve un-assisted, raise a sound calf and to re-breed within our low-cost management.  These genetics, combined with sustainable grazing management (sustainable pasture and soil health), optimize profit per hectare per financial year.